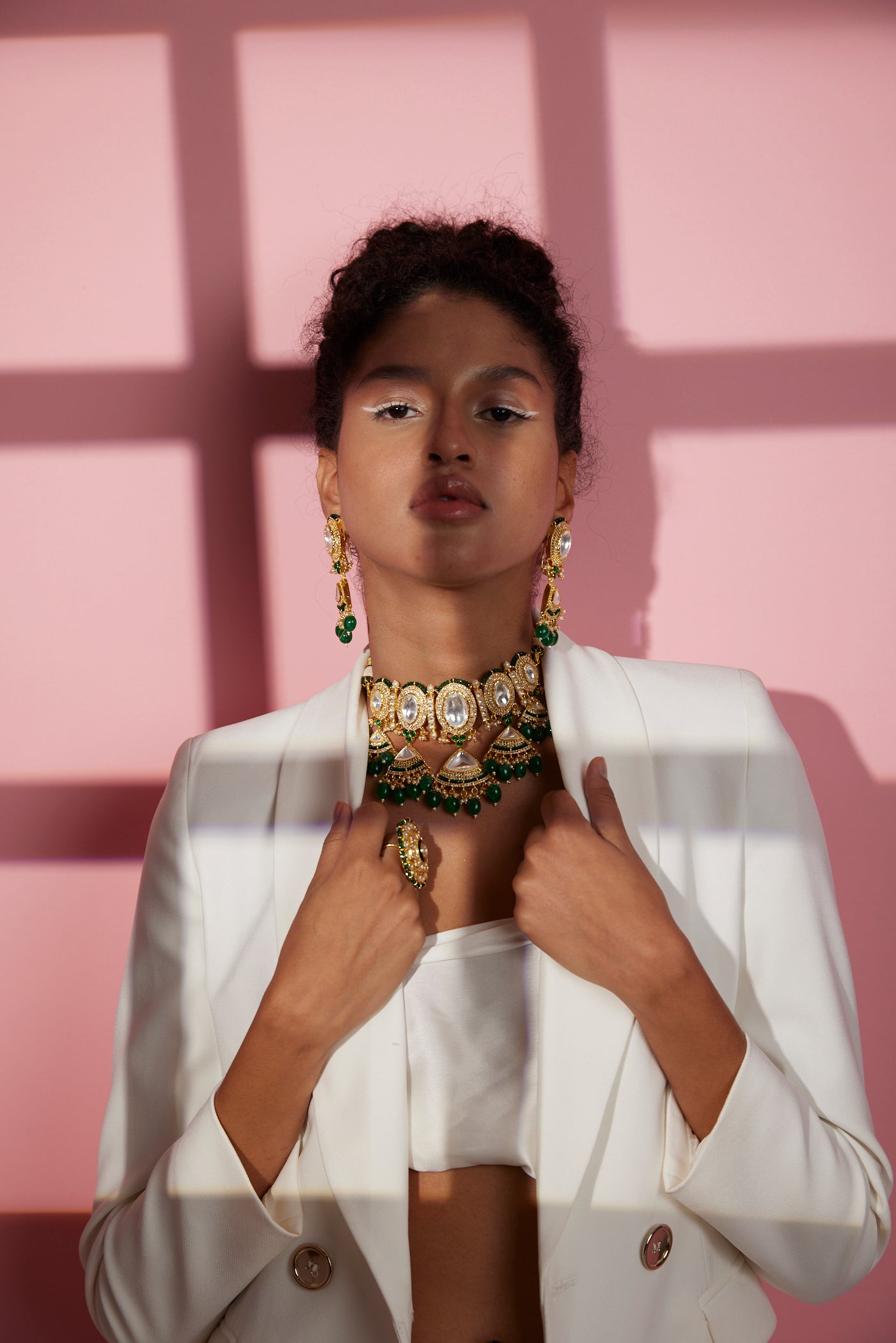 5 out of league Kundan Jewellery style
Kundan is the shape that pure gold takes when it is used to make jewelry. India has earned a spot among the best jewelry destinations in the world thanks to its exquisite beauty and ethnic flavor. Since the beginning, India has maintained the custom of donning gold jewelry. Indians, renowned for their obsessive love of gold and anything gold, find it a huge draw. 
Gold has always existed under the Marathas, Mughals, or British. India was previously referred to as the "Golden Bird" of the world due to the amount of gold there. This explains why there is such a fascination in India for using yellow metal so frequently to create jewelry. The value of giving and wearing gold on such occasions is reiterated by bridal jewelry, celebration jewelry, anniversary jewelry, festival jewelry, and much more.
However, why is Kundan such a huge deal, and why will it never go out of style? Below is a discussion and list of causes:
Archaic India's Craft of Jewelry - Ancient times are still present in the design of Kundan jewelry. The Mughals cherished their Kundan jewelry in every aspect and were the first to wear it in the 16th century. In the royal courts, master metalworkers and artisans would exhibit their finest Kundan creations. Including precious stones and diamonds in Kundan jewelry gave it a Mughal aesthetic. This is the reason jewelry enthusiasts from all over the world flocked to India to purchase this work of art.
Exquisite Baubles - When Kundan and jewels are mixed, a certain enchantment and exquisite beauty are produced. Several rare stones, including topaz, sapphire, emerald, ruby, and jade, are employed to fit into the Kundan framework. This adds a classic element to the jewelry's overall design that no other piece of jewelry can. Jewelry made by Kundan Meenakari is particularly popular with VIPs, famous persons, and the wealthy.
Versatile and Vibrant - Kundan jewelry has a lot of versatility and may add color and vitality to the wearer's face. For their wedding ceremonies, actors like Shilpa Shetty, Aishwarya Rai Bachchan, Kareena Kapoor, and many more selected Kundan jewelry. All types of clothes go well with Kundan jewelry.
Vast Variety - Kundan Jewellery is trendy among Indian consumers since many options are available. Kundan necklaces, anklets, rings, bracelets, bangles, earrings, matha patties, maang tikas, nose rings, and a wide variety of other jewelry pieces provide purchasers the chance to select the perfect piece or even have it personalized to their desires. Chains, charm bracelets, pendants, and different modern interpretations can be found.
Affordable Kundan Jewelry - There is no problem if there is a budgetary restriction. A consumer on a tight budget can still appreciate the beauty of Kundan jewelry thanks to the accessibility of imitation Kundan jewelry in the market. You should search for designer imitation Kundan jewelry if you want outstanding designs with quality assurance.